I will admit that my idea started with a photograph. I cannot remember where I initially saw the backdrop of Mt. Bromo, and it doesn't really matter. My point is that this is potentially the first time that I was influenced to visit a place based solely on a picture.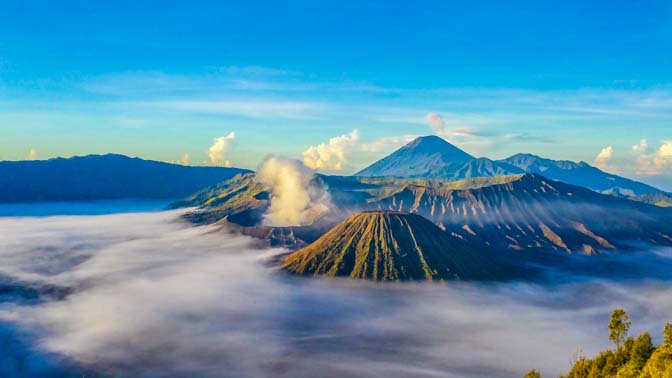 It took considerable effort to actually make it this far, especially via public transportation. We only stayed for two days in this village, but the views and scenery were well worth it.
We took a minibus from the main bus station in Probolinggo, to Cemoro Lawang, Indonesia, arriving close to 7pm. We were dropped off at the highest point on the road, to be close to the trailhead, for the next day's hiking endeavors. Here we priced out a few homestays, threw down our packs, and went looking for some hot soup.
Cemoro Lawang, the tiny town near Mt. Bromo, is located high in the lush green mountains of east Java. The Indonesian's gardens are built on the rolling hills and mountainsides, completely surrounding the village, creating a picturesque landscape.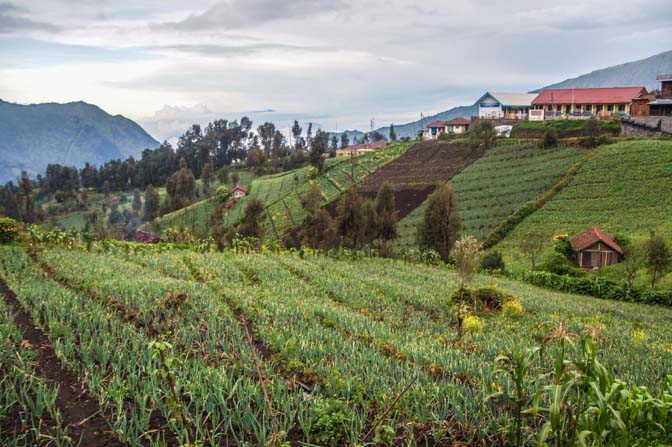 Everything in the village would shut down early, to then wake up early. All the shops and villagers would be awake by two or three am, to cook, sell snacks, coffee, hats, scarfs, and water to the tourists doing the sunrise hike.
Being in these mountains was our first exposure to normal temperatures since leaving home. Jackets, gloves, hats, socks, and scarves were all advised and being sold, due to the cooler temperatures. We did not purchase any of these items, because the fifty or sixty degree weather was overdue and overly missed.
Transportation to and from Mt. Bromo, the actual active volcano itself, or to the sunrise viewpoint, was heavily suggested. Transportation would consist of buses, 4×4's, motorbikes, and even horses (that looked more like malnourished little ponies).
During our travels in SE Asia, it was not common to see many people walking, as it seemed like everyone was on a motorbike. For this reason, I am not sure if they truly think that hiking is too strenuous or they are strictly desiring business by providing transportation options. Either way, we refused the constant ride offers, and used our legs to explore.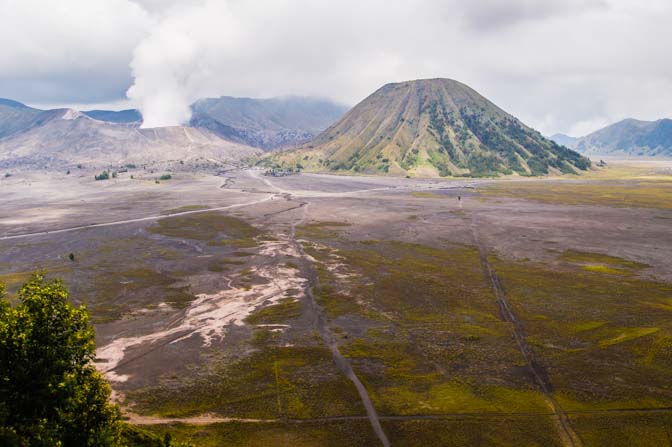 Our first morning was hazy and drizzling. It was such an enjoyable experience to wake up to a cold room, wear socks, and put on a sweatshirt. I thoroughly enjoyed my hot tea that morning, just holding it, and watching the steam. I remember loving that moment, having a lazy morning, with the fog nestled in the streets, and no one else around. It was such a nice change from the burning sun and scorching heat that awaited us at the bottom of the mountain.
Later that morning when the fog started to lift, we walked 3 km across the sea of sand and climbed a set of stairs to Mt. Bromo's crater opening. We were trying to catch our breath, from the combination of the elevation gain and the stairs, as we were overtaken by the wafts of sulfur coming out of the volcano.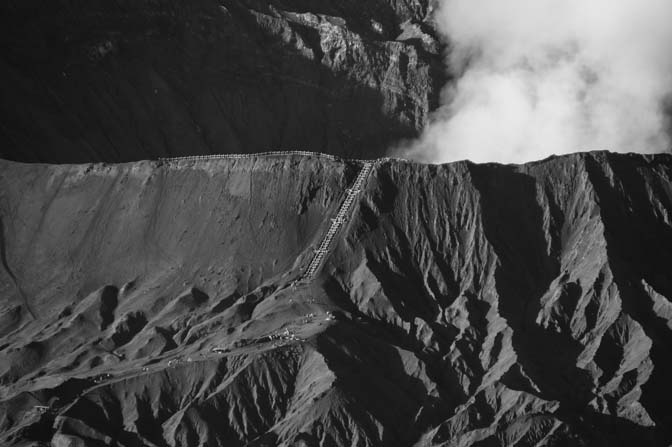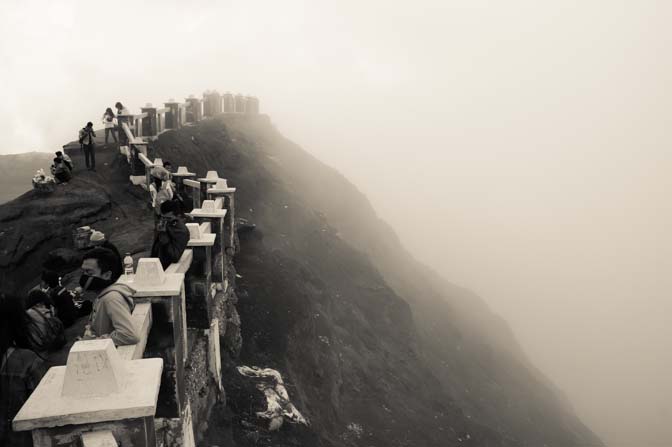 The sulfur was so strong, that we didn't stay at the top long. That, and we were ready to be done having our pictures taken with complete strangers. We waited long enough on top for the fog to shift around to reveal the large, deep, dark hole of the volcano, and then made our way back down the stairs.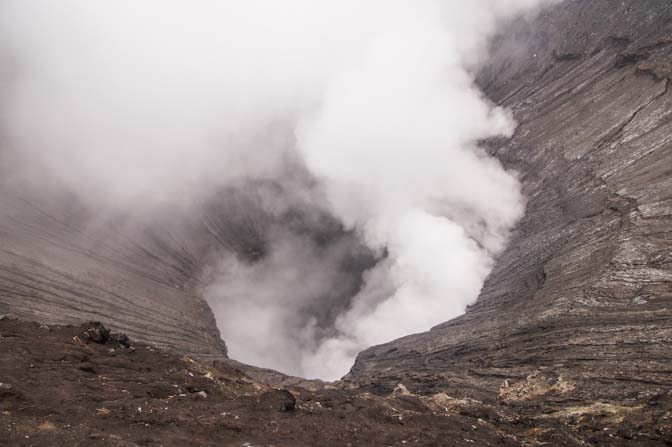 It started to rain as we were descending, so we searched for shelter at one of the food stands that was covered by a large tarp. While we waited for the rain to lift, we ordered hot meatball soup (it was called meatball, but we truly do not know if there is any meat actually in the ball itself). It was warm and delicious, and huddling under the tarp trying our best to communicate with the locals was a fun experience as well.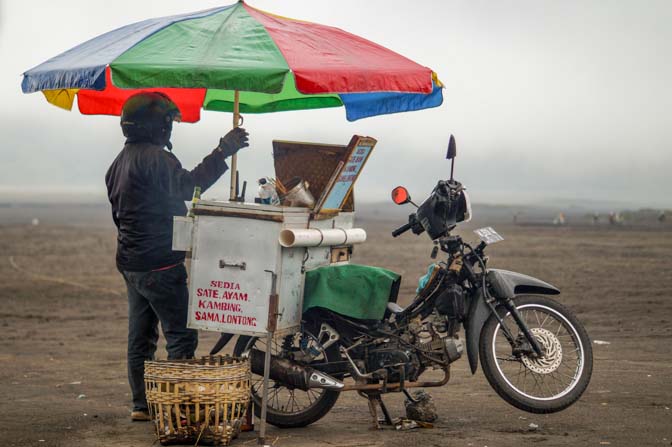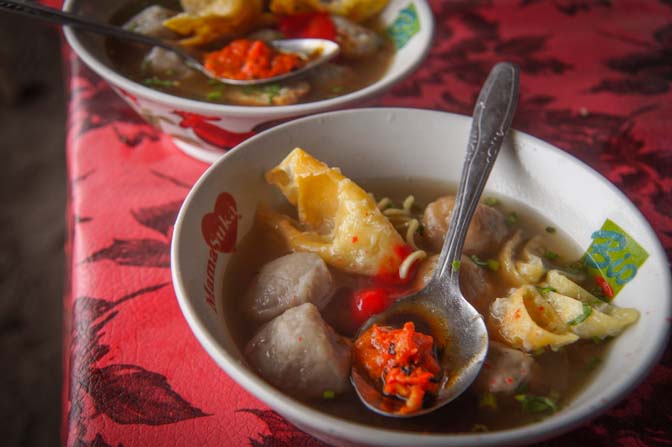 The rain eventually lifted to a drizzle, so we started our walk back along the muddy plane. We made it back to our homestay a little wet, and with our shoes layered thick with mud.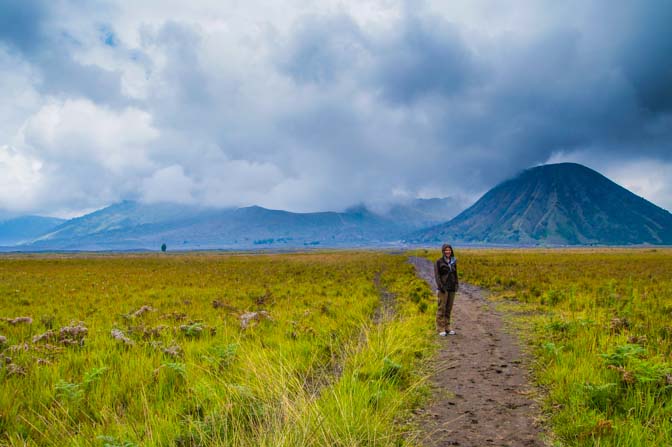 The next morning, we were up at three am to start our hike to the Mt. Bromo viewpoint, with four others we met the previous day. The hike took about an hour and a half to reach the lower viewpoint. We were the only six actually hiking that morning, and decided to stay at this viewpoint, as we heard it was a better view, and we had it all to ourselves.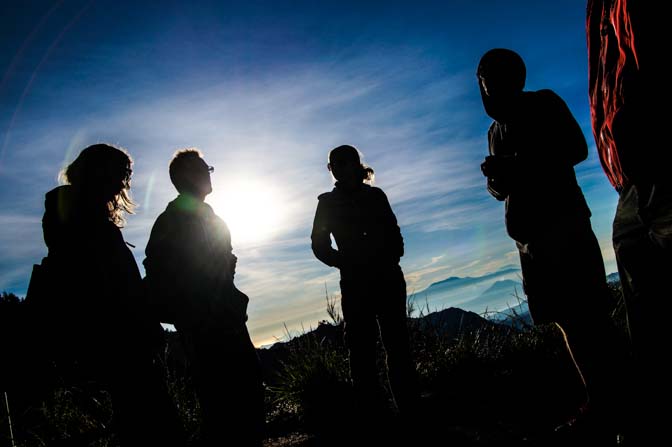 Only half of a kilometer higher up the mountain, was the main lookout point, which is reachable by vehicle. This is where all the paying tourists get dropped off, and crowd around trying to get a good view. The local that was selling us coffee, told us to not even bother going up, due to the chaos of the vehicles and crowds.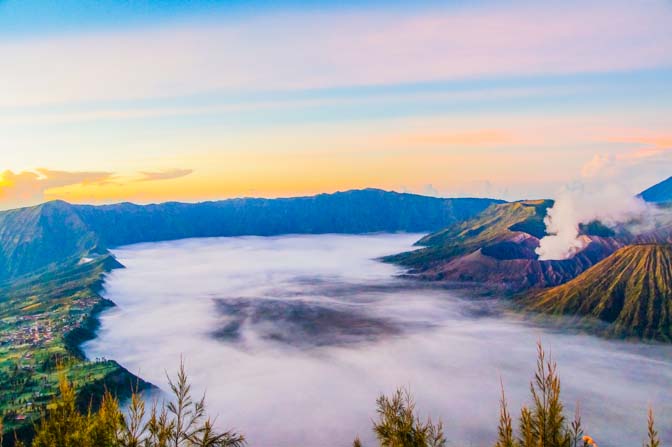 We stayed at our viewpoint, completely in awe of the view for several hours. The sky was constantly changing as the sun was rising, and the view unfolded before us. We have seen our fair share of sunrises lately, but this was something special. It is hard to describe how perfect it was.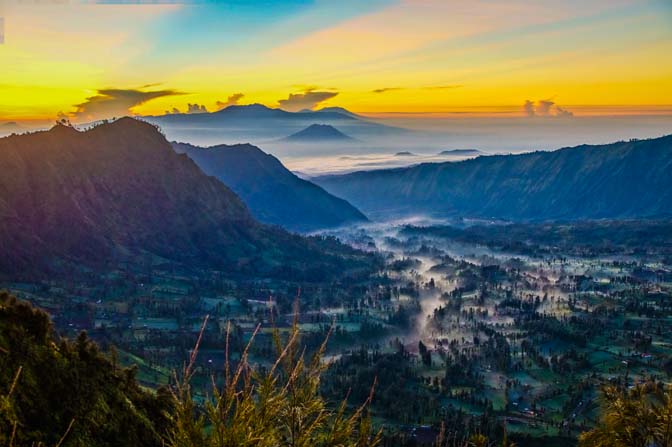 It was fun getting to know the other travelers that we hiked up with and hear about their adventures. We drank coffee, munched on snacks, and shared different travel memories and advice.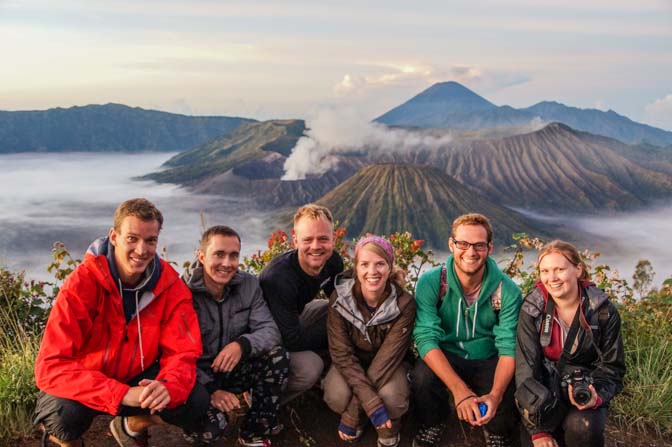 On our way down the mountain, there were fields and fields of well-maintained gardens covering the mountain sides. The farmers were working in the fields, and would give us a wave and smile as we passed by. It was absolutely beautiful country, that we missed when we hiked up in the dark, only hours before.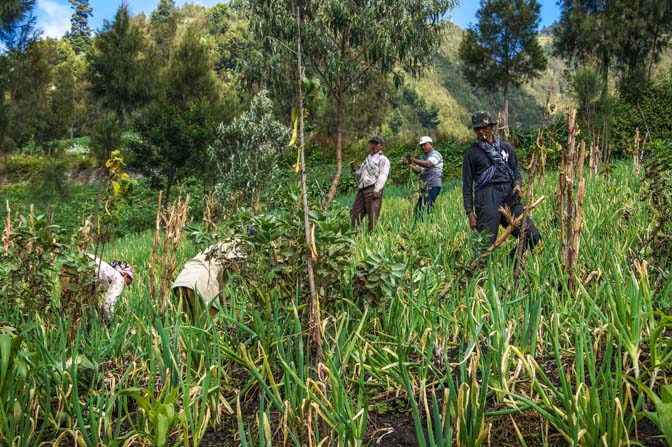 The sun was now up, clouds and fog from the morning disappeared, and we made it back to our homestay by 9am, just in time to pack up and head back down the mountain.
Below is a time-lapse (taken with the GoPro) of the sunrise against Mt. Bromo.