We are oceans away from anything familiar, roaming the world, yet still feel a sense of obligation to do or see certain things.
I am not sure if we view doing this thing as a rite of passage, or not doing it as a potential future regret. Either way, there is so much hype wrapped up in specific world-renowned places and a substantial amount of undefined pressure to visit.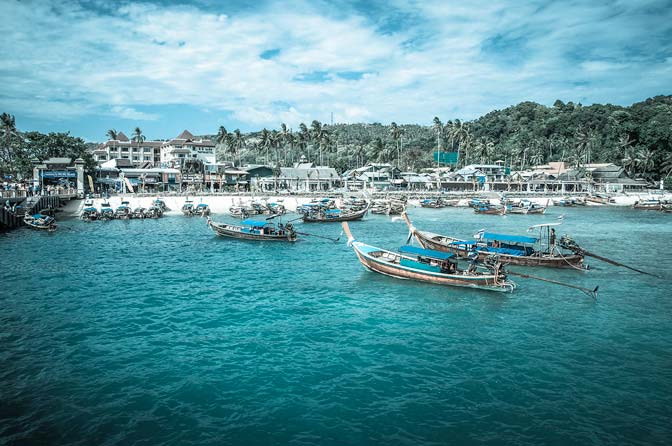 We have purposefully abandoned lonely planet guidebooks that quickly create an extremely well-worn trail. We have also decided to forgo several touristy areas to pursue more of the raw, natural, preserved beauty. Our energy is spent learning about and following the advice from locals and other travelers. More often than not we have succeeded in creating a unique path to follow, and other times we have failed.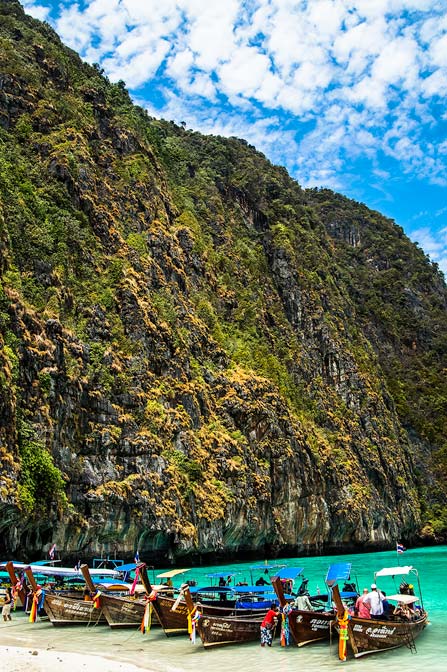 Koh Phi Phi, Thailand was a last minute decision to take in what the flyer said was "unmatched beauty". The day trip tour we took was painful, as expected, where I had to give myself several pep talks. The tour started with an hour long boat ride that was packed full of awkwardly squeezed together, sweaty, hot tourists touching on little benches.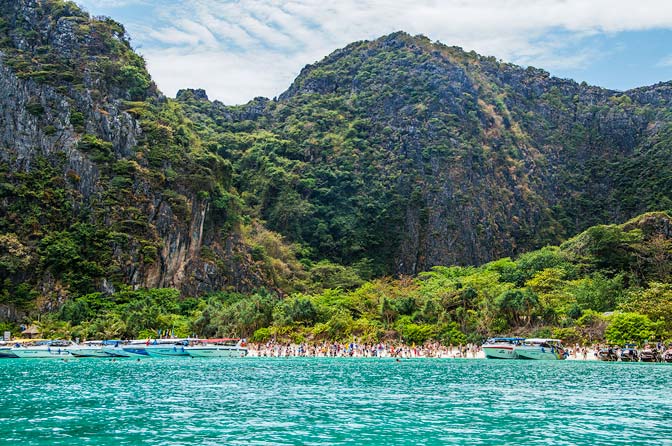 We arrived at the first little cove site, given a tiny area to snorkel, and a timed thirty minutes. There was not much to see in the water besides fifty other half naked bodies from all the other tour groups. I kept track of the time as we quickly swam around the corner and towards the beach. This area was beautiful, surrounded by limestone cliffs, clear water, and nothing but blue skies.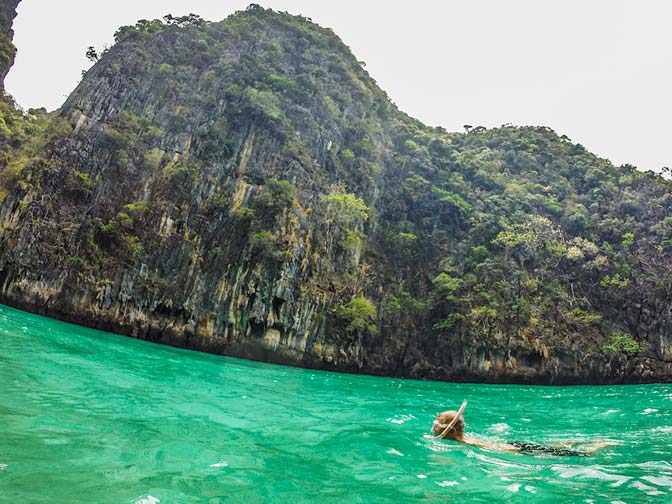 Our next stop, Koh Phi Phi Leh, Thailand, where the movie "The Beach" was filmed, was the main attraction. The view from this beach is what is on all the postcards, tour web pages, mentioned as a "must see", and what everyone talks about. I cannot argue that this place is not magnificent, because it is. The limestone formations, powdery white sand, and warm turquoise waters could be considered paradise to some. Absolutely stunning, to say the least.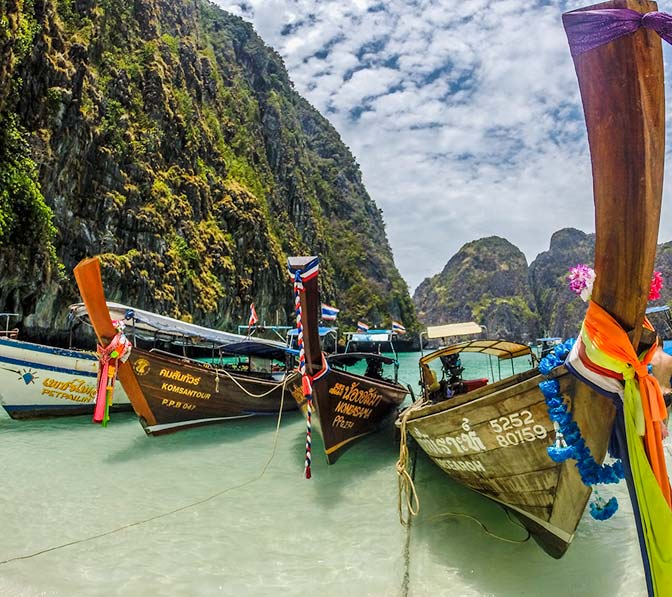 Nonetheless, I still had to give myself little pep talks throughout the day and remind myself that… "I am in Thailand, on the famous Koh Phi Phi islands. It is a beautiful sunny day. I get curry for lunch. I can roll in the sand and build a castle. I am able to swim to my heart's content. I can people watch and see all the hairy men in speedos, so on and so forth." This was one of the times that I thought we failed and fell into the dark tourism cult. The chaos, crowds, noise, and hairy men in speedos really stripped away the beauty in my humble, but very strong opinion.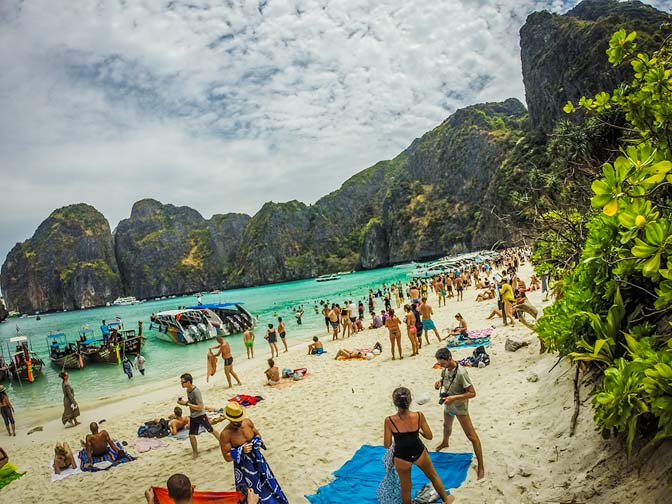 Monkey Beach was our second-to-last destination, where we stayed in the boat and watched our boat crew throw out watermelon and other fruits to the monkeys sitting and waiting on the limestone walls. It was somewhat entertaining, as the many monkeys were running up and down fighting for what was thrown. Their hand-eye coordination was being tested, and for many of the younger ones, needed much improvement… poor little guys.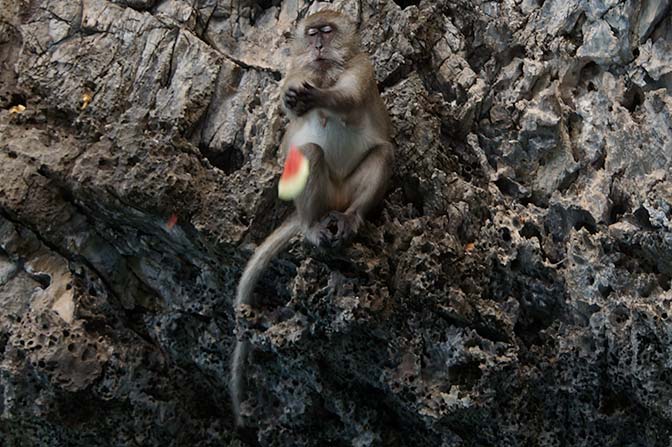 Our final destination before putting the life jackets back on, was touring around the town on Koh Phi Phi. The pier to the town center was bombarded with just as many locals pushing their hotel or tour packages as actual tourists.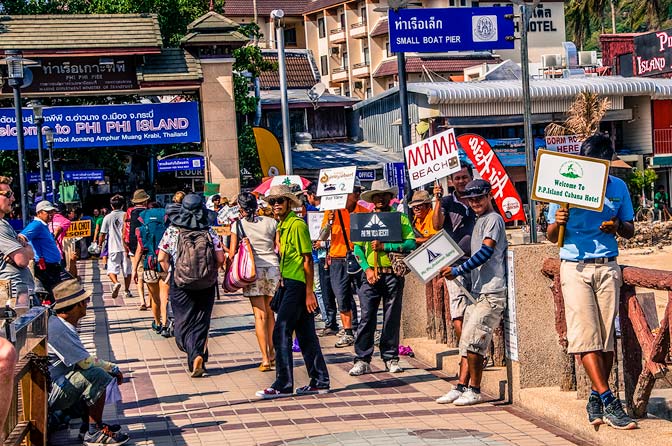 The streets were full of vendors, shops, and restaurants of any taste preference. We quickly weaved our way through until we found the stairs leading to the "viewpoint". Away from the hustle of the little city, we hiked up. It was extremely hot climbing, possibly deterring many, since it seemed like we had both viewpoints to ourselves. The clear skies, quiet ambience, and the gorgeous views almost made the whole trip worth it.