Marketing Slogan: "It's more fun in the Philippines." Although intended to entice tourists, this coined phrase, in my opinion, is fully true.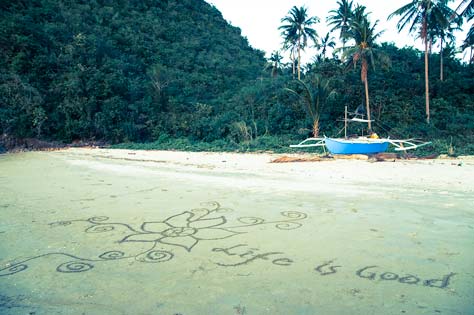 Brown Outages: An intentional or unintentional drop in voltage in an electrical power supply system. This has been something that we have experienced throughout our time in the Philippines.
Jaywalking: The only method of crossing the street, as there were no crosswalks or pedestrian overpasses available. It was quite normal to cross the road anywhere, anytime and at any location. Crossing the street could be the most thrilling and dangerous part of your day.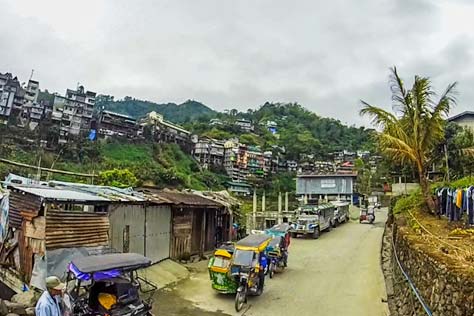 Karaoke: A deep passion, love, or obsession that the Filipinos have for karaoke or videoke (a more competitive version that scores singers and records their performances). It is almost always a feature at birthday and holiday parties, and found in scores of bars and restaurants.
Monopoly Card Game: This card game is loosely based on the board game, and was a lot of fun to play.  It seemed like a slight Filipino infatuation.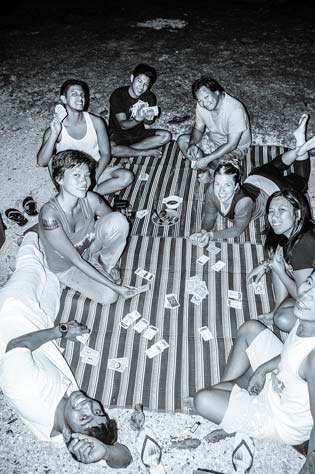 Lost: Asking someone for directions was not straightforward. We would follow the given directions, still be lost, ask again, follow, still be lost, it was a maddening cycle.
Mangos: Fact: the best mangos on earth are grown in Iloilo, Philippines.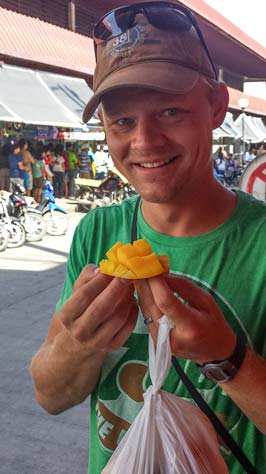 Sugar: Everything was sweetened, especially coffees, teas and cold drinks. It was essentially impossible to buy coffee packets that were not 3-in-1 (pre-mixed with milk and sugar) anywhere.
Sunsets: We took in the most incredible sunsets close to every night. These sunsets would be close to impossible to compete with, as we enjoyed them on tiny, remote islands.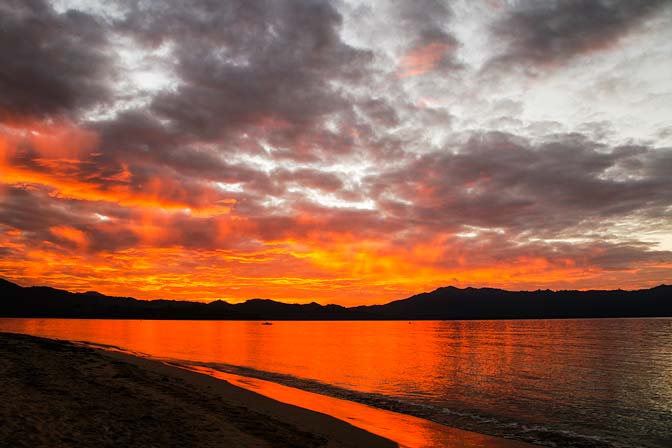 Whitener: It is almost impossible to buy normal sunscreen anywhere. Filipino sunscreen comes in 3 oz bottles, is extremely expensive ($8-12 USD), and has the additive 'skin whitener' in it.
Jump Shots: Wacky poses are preferred, while being photographed, jumping in the air. It is the Filipino way!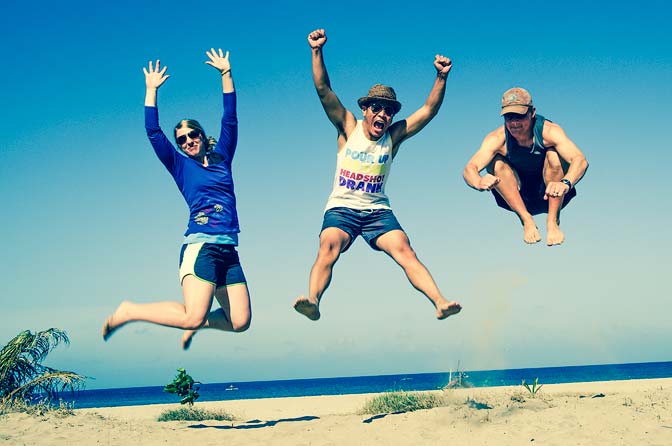 Horns: Used as a type of 'morse code' to communicate. There was little to no actual signage or typical rules being followed, just defensive and aggressive driving on these crazy little roads.
Raw Beauty: The Philippines has over 7,000 islands. It was here that we experienced our favorite white sand beaches, isolated islands, and crystal clear waters.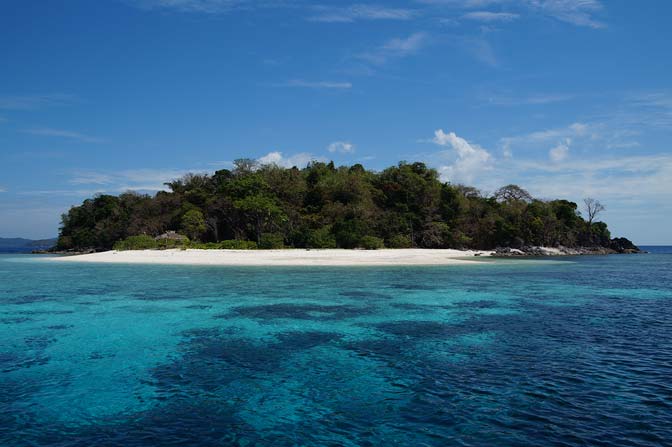 Cockfight: A blood sport between two roosters, or more accurately gamecocks, held in a ring called a cockpit. Two owners place their gamecock in the cockpit, and the cocks fight until ultimately one of them dies or is critically injured.
Earplugs: An indispensable friend for sleeping through the zealous rooster's pre-dawn alert. The never-ending crowing roosters could be heard at all hours of the night. If it was not the roosters, it might have been the packs of wild fighting dogs, or the shrilling sound of pigs being slaughtered in the early morning, keeping you awake.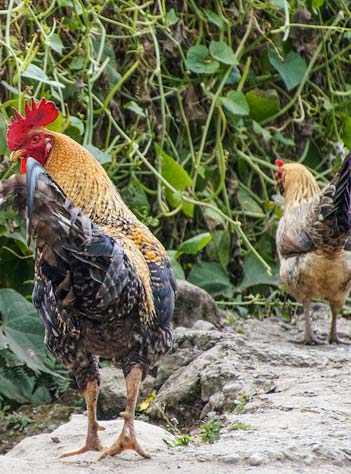 Wifi: Every accommodation or restaurant offers wifi… but really, few places have working, reliable, usable wifi.
Fruit: Delicious jackfruit, coconut, mango, pineapple, and over one hundred different types of bananas, to name a few, were fresh and available to purchase along the streets or at the outdoor markets.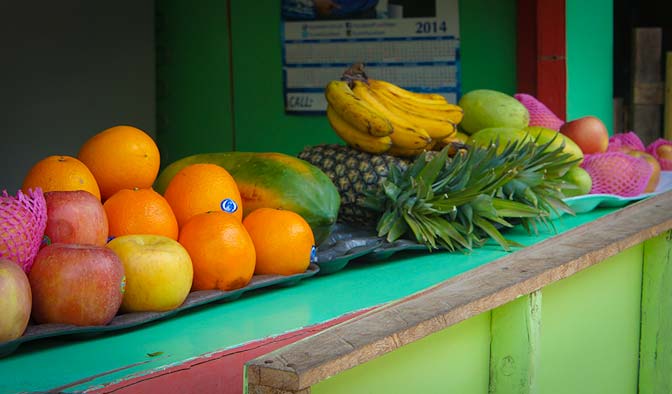 Cash: Credit cards were not accepted in most cities, and several smaller towns did not have ATM's. Planning ahead to carry enough cash and smaller bills was extremely important, as finding ATM's and receiving change back was rare.
Bangka:  A type of outrigger canoe featuring one or more lateral support floats known as outriggers, which are fastened to one or both sides of the main hull. These were the type of Filipino boats that we used in Tao, island hopping, diving, and for all of our water transportation.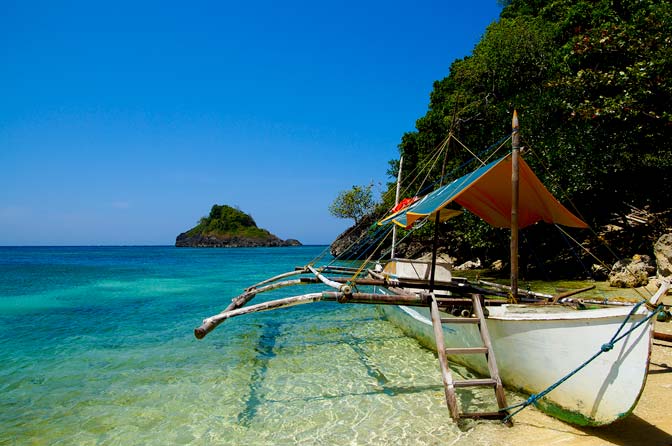 Power Ballads: These were blasted, at full volume, on jeepneys, public buses, tricycles, and in the streets. There seemed to be an obsession with 80's and 90's power ballads, as well as old school country music.
Sachet: Or packet is a small disposable bag or pouch, made from plastic or tin foil, often used to contain single-use quantities of foods or consumer goods. Shampoos, conditioners, lotions, sunscreen, mosquito repellent, toothpaste, all personal care items are sold in sachets.
Fish: Rice and fish would be served three meals a day in the Philippines. The fish was caught right off shore and accordingly, was fresh and delicious.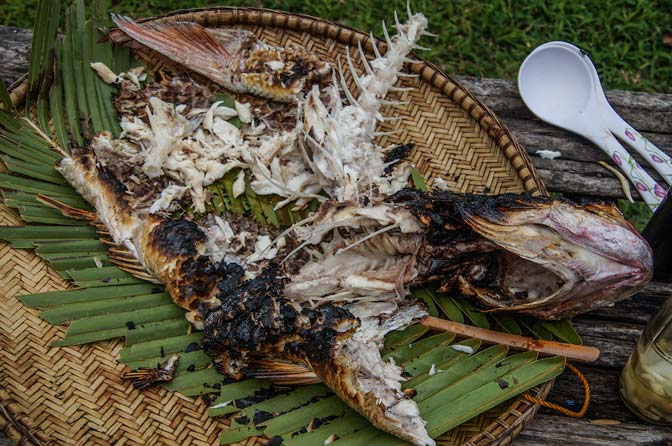 Non-touristy: Most days passed by without spotting another tourist (or white person). We would get a lot of stares as we would walk by, as if we were the first two white people some of these villages have seen.
Litter: Garbage was everywhere, as you would be hard pressed to find an actual bin, to dispose of your trash anyways. Random signs were also posted to warn against indulging in indecent behaviors.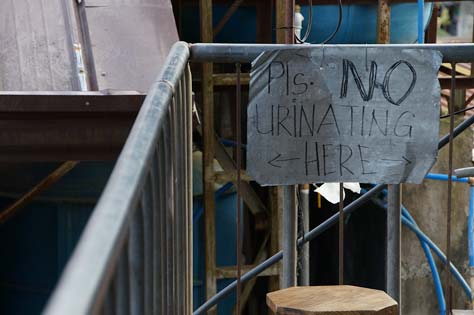 Halo-halo dessert: It starts with crushed ice on the bottom, add milk, coconut pulp from a young coconut, fruit gelatin, sweet flan, a scoop of ube ice cream and top it off with corn flakes.
Jeepney: A jeep-van hybrid, gaudily decorated and PACKED full of people. Just when you think the jeepney can't fit anymore people, it can. Top-loading was common, overloading, with excess passengers taking their seats in the rafters. Still, several others, which cannot squeeze inside are standing on the back holding on.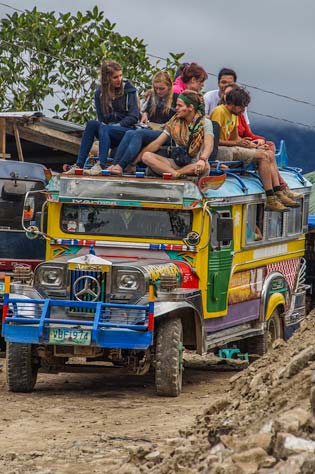 "It's Ok:" In the Philippines, means everything from "yes" to "no" to "don't even think about it", with absolutely no way to discern which one is intended in a particular situation.
Bare hands: Eating from a banana leaf, using only hands to perfectly scoop sustenance in, was the norm, and a lot of fun. No forks or spoons were provided at the smaller local joints.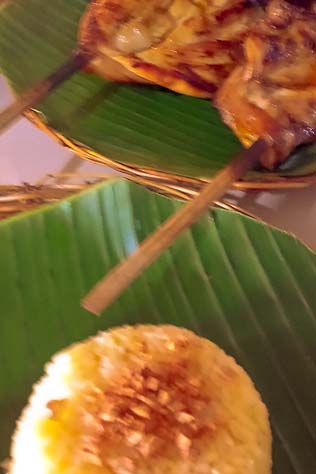 Balut: A developing duck embryo (sometimes chicken) that is boiled alive and eaten in the shell, complete with feathers, beaks, bones and eyes. It is commonly sold as street food, and is considered a Filipino delicacy. Those which are fertile but have failed to develop are boiled and sold as penoy.
No shoes: One custom in the Filipino culture is to take your shoes off when entering a home, restaurant, or establishment of any sort.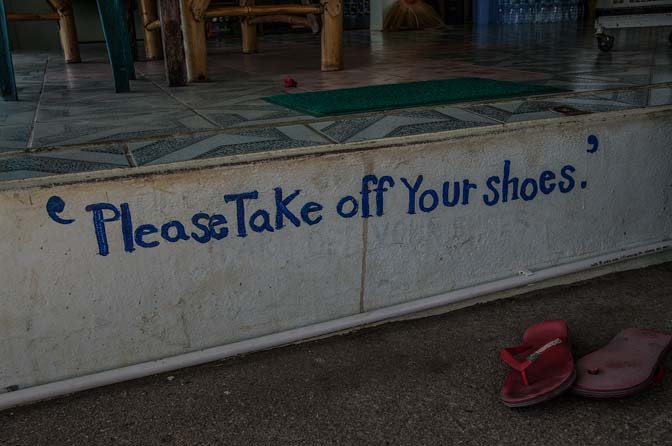 Color: If getting a tan (from a white-skinned visitor) indicates that you can afford to holiday in the tropics, so is being white-skinned an indicator that one need not toil under the scorching heat of the tropical sun to earn one's livelihood.
People: Everyone seemed extremely helpful and nice. The children were both painfully adorable and absurdly friendly, saying hello, hello, and madly waving, as we passed by.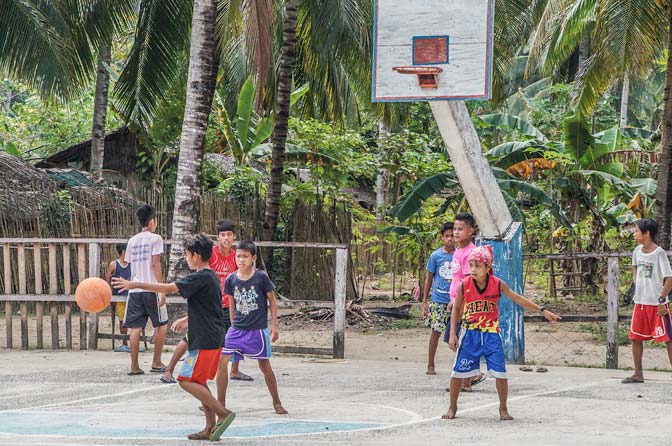 Texting: Has become the primary mode of communication, as the Philippines is known as the text messaging capital of the world due to the high volume of the usage, compared to the actual number of cell phone owners.