In the mountains of Northern Luzon, Philippines, all wheels weave through on narrow, unfinished, pothole-filled, little roads. Several parts of the road, being gravel and dirt, have sunken or fallen. The steep cliffs, lack of rails, and rough ground, make this drive thrilling, to say the least.


To truly experience this ride, sitting on top is key. Riding the jeepney top load, as well as hanging off the back of the jeepney, was very common.
Throughout the Philippines, the need for rides were, at many times, greater than the seats available, making the supplementary seating necessary. Every conceivable space was filled with children, live chickens, vegetables, grain, rice bags, etc.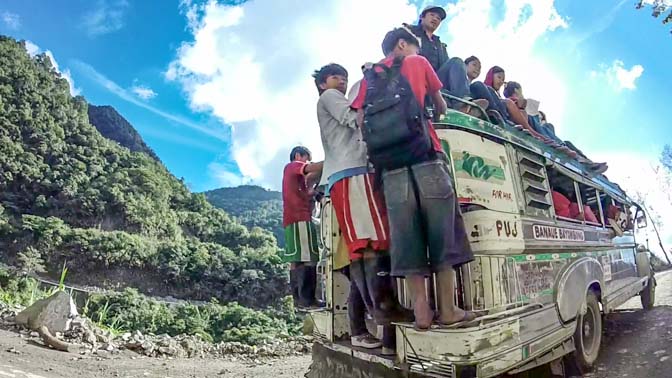 We continuously opted to ride top load while getting around via jeepney in the beautiful Philippine mountains. This allowed us to take in the unobstructed view, brave the elements, and breathe in the fresh mountain air.  The towering lush mountains, with the rice terraces cascading down them into the valley below, consumed the landscape.
Barreling up and down these twisting, tiny roads, on top of the jeepney, was kind of like riding a roller coaster. I sat cross-legged, one foot wedged between the extra tire and iron frame, one knee tucked under the lip of the cargo rack, and my abdominal muscles fully engaged. If I were to plummet into the deep valley far below, I would not be doing it alone.